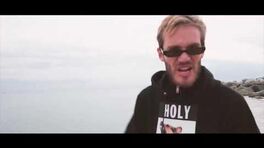 Not to be confused with B**** Lasagna (Cuisine)
"Bitch Lasagna", was made by Party In Backyard, FakeMarzia (BradWOTO, or pewds first editor), and PewDiePie himself. It was uploaded on October 5, 2018 as a diss track against PewDiePie's rival, T-Series. It has over 250 million views making it the most popular song and most viewed video on his channel, the 2nd song is Congratulations, another T-Series diss track.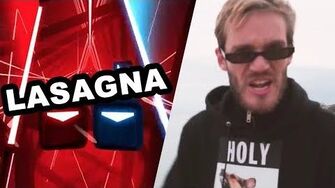 Since the realization of the song, he has played it on the VR game Beat Saber and it has many remixes by channels unaffiliated with PewDiePie. The song is also available on iTunes and Spotify.
Since April 2019, this song as well as Congratulations have been banned from India's YouTube, presumably by T-Series, with the caption "This video is not available" and disabled comments.
This song was later played on PewDiePie's wedding during the dance session along with the attending guests.
Video
Original song: https://www.youtube.com/watch?v=6Dh-RL__uN4
Beat Saber version: https://www.youtube.com/watch?v=2kpR0BdouNE
Part of a series on
PewDiePie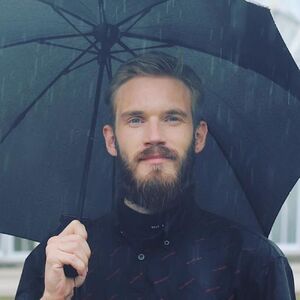 Games Played
123D Sculpt (app)
A Mothers Inferno
Afraid of Monsters
Alice: Madness Returns
Alpaca Evolution
Among the Sleep (demo & full version)
Ampu-Tea
Animal Super Squad
Anna
Ao Oni
Assassins Creed IV: Black Flag: Multiplayer
Avian
Babysitter Bloodbath
Backflip Madness
Baking Simulator 2014
Barbie Adventure
Battleblock Theatre
Beyond: Two Souls
Big Rigs
Bill Cosby Fun Game
Black Snow
Bomberman Ultra
Bombsquad
Botanicula
Brenden Simulator 2014
Bunker 16
Call of Duty: Black Ops
Calm Time
Cat Mario 3
Catlateral Damage
Ceiling Fan Simulator
Chivalry: Medieval Warfare
Cho Aniki
Cold Fusion
Condemned: Criminal Origins
Condemned 2: Bloodshot
Conker's Bad Fur Day
Contagion
Corpse Party: Blood Covered
Corpse Party: Book of Shadows
Cow Petting Sim 2014
Crashtastic
Cry of Fear
Curse Of The Aztecs
Curtain Simulator 2013
Dance Central
Dark Souls
Daylight
Dead Island
Dead Lab
Dead Space 2
Dead Space 3
Deadpool
Detroit: Become Human
Deep Sleep
Default Dan
Divekick
Diving Simulator 2015
Don't Starve
Don't Starve: The Screecher
Don't Shit Your Pants
DOOM 3
Doorways
Double Hitler
Draw a stickman
Draw My Thing
DreadOut
Dream of the Blood Moon
Drunken Wrestlers
Duck Sim 2014
Dumb Ways to Die
Dungeons Nightmares
Dying Light
Eleusis
Enviro Bear 2000
escape from lavender town
Eternally Us
Eurosong Generator!
Evie
Eyes
Fahrenheit
Fatal Frame 2
Farming Simulator 2013
Fibrillation
Finding Paradise
Fist of Awesome
Flappy Bert
Flappy Bird
Flappy Doge
Flappy Miley Cyrus
Flappy MMO
Foul Play
Gang Beasts
Geometry Dash
Get on Top
Getting Over It
Give Up
Goofball Goals
Goat Simulator
Goat Petting Simulator
Gorilla Simulator
Grand Theft Auto IV
Grand Theft Auto V
Gretel and Hansel
Guns of Icarus
Grave
Half Minute Hero: The Second Coming
Hannah Montana: The Movie: The Game
Haunt: The Real Slender Game
Haunt The House: Terrortown
Haunted Memories
Hello? Hell... o?
High School Musical: Sing It
Hole in the Wall
Homesick
Hot Throttle
Hunger Games
Huntsman - The Orphanage
I See You
I Wanna Be the Guy: Gaiden
Ibb & Obb
Ikenie No Yoru
Imscared
Insanity (or Insanidade)
Insert Title Here
Into The Gloom
Ironpants
Jazzpunk
Jeff the Killer
Journey
Jurassic Heart
Just Cause 2
Just Dance 2
Just Dance 3
Just Dance 4
Just Dance 2014
Justin Bieber Simulator 2015
Kinect Adventures
Kinect Party
Kingdom Hearts
Kraven Manor
Lakeview Cabin
Left 4 Dead 2
Lights & Shades
Little Big Planet 2
Loadout
Lovely Planet
Lumber Island
Lurking
Magicka
Mari0
Miami Traffic III
Miley's Twerkball
Mirror's Edge
Misao
Monaco
Monstrum
Morbus
Morphine
Mount Your Friends
Murder
Muscle March
Nether
Neverending Nightmares
Next Car Game
Ni no Kuni: Wrath of the White Witch
Night of the Sacrifice
Nightmare House 2
Night Rider: Turbo
No More Room in Hell
Norrland
Nosferatu: The Wrath of Malachi
Octodad
Octodad: Dadliest Catch
Only if
Opera Slinger
Oswald The Elephant
Outlast
Outlast: Whistleblower
Overcast - Walden and the Werewolf
Paranoiac
Paranormal
PaRappa The Rapper
Party Drinken Simulator
Payday 2
Penumbra: Black Plague
Penumbra: Overture
Pesadelo O Início
PewDie Flap!
PewDuckPie
Pirate Ship Wars
Pizza Delivery
Plants vs. Zombies: Garden Warfare
Pom Get's Wi-Fi
Portal 2: Peer Review
Potatoman Seeks The Troof
Probably Archery
Prop Hunt
Pulse
PURRRkour
Ragdoll Olympics
Real Life Horror Stories
Realistic Kissing Simulator
Resident Evil 7: Biohazard
Revenge of the Sunfish
Rise of Nightmares
"Roblox"
Robot Vacuum Simulator 2013
Rock Simulator 2014
Rocksmith
Room Cleaning Simulator 2014
Saints Row IV
Saints Row: The Third
Sally.EXE - The Game
Scott Pilgrim vs. the World: The Game
SCP-087-B
SCP: Containment Breach
Scribblenauts Unlimited
Scribblenaust Unmasked
Seaman
Silent Hill
Silent Hills
Silent Hill 2
Simulator of Simulator
Siren: Blood Curse
Sissy's Magical Ponycorn Adventure
Sitting Simulator 2014
Sharknado The Video Game
Shutshimi
Skate 3
Sky Guy
Slender: The Arrival
Slender's Woods
Slendytubbies II
Smocking Simulator
SMS Racing
Soccer Physics
Sonic Unfair
Space Farmers
Specter Seekers
SpeedRunners
Spin the bottle (Wii game)
Sportsfriends
Squishy Bird
Stairs
Starwhal: Just the Tip
State of Decay
Stray Cat Crossing
Suicide Survival
Super Amazing Wagon Adventure
Super Digestion Moose
Super Squat Simulator
Swamp Sim Horror
Swing Soccer
Taco Simulator 2014
Talking Angela
Text and Drive
The Amazing Frog?
The Adventures of Cookie & Cream
The Burning Room
The Calling
The Curse of the Chocolate Fountain
The Cursed Forest
The Evil Within
The Forest
The Hat Man
The Hidden Source
The Howler
The Impossible Quiz
The Impossible Quiz 2
The Impossible Quiz Book
The Playroom
The Stanley Parable
The Showdown Effect
The Sims
The Sims 4
The Suffering
The Train
The Very Organized Thief
The Walking Dead Season Two
The You Testament
The Zoo Race - Noah's Adventures 2
Thomas Was Alone
Timore
To The Moon
Toca Hair Salon Me
Toilet Simulator 2013
Traffic Simulator
Tree Simulator 2013
Trials Evolution
Trials Fusion
Trouble in the Terrorist Town
Turbo Dismount
Turtle Simulator
TV Show King
Ultra Grass Simulator 2014
Uncraft Me!
Unfair Mario
Untitled Goose Game
Unturned
Vanish
Vapour
Virtual Cat Collecting Simulator 2000
Virtual Morality
Viscera Cleanup Detail: Santa's Rampage
Völgarr The Viking
VRChat
Wario Ware: Smooth Moves
Watch Dogs
When Vikings Attack
Which
With a Beer! Lama
Within Deep Sorrow
Worms: Clan Wars
Worms: Revolution
Wyv and Keep - The Temple of the Lost Idol
Yoostar 2
ZombieU
Amnesia Custom Stories
Amnesia: Abduction
Amnesia: A Machine for Pigs
Amnesia: An Unexpected Arrival
Amnesia: Aphyxia
Amnesia: Baldo's Discovery
Amnesia: Black Death
Amnesia: Black Forest Castle
Amnesia: Can't Remember
Amnesia: Cannabalism
Amnesia: Cry Oni
Amnesia: Dark Castle
Amnesia: Dark Mansion
Amnesia: Dark Room
Amnesia: Death Can Await
Amnesia: Disponentia
Amnesia: Escape
Amnesia: Fear Amnesia
Amnesia: Followed by Death
Amnesia: Gary Dark Secrets
Amnesia: Grunt's Castle
Amnesia: Harmfuls Wrath
Amnesia: House of Creep 3
Amnesia: I Dream
Amnesia: Insanity: Nocturnal Confusion
Amnesia: Interius
Amnesia: It's Hurting My Eyes
Amnesia: Ken's Nightmare
Amnesia: Killings in Altstadt
Amnesia: La Caza
Amnesia: Laughing in the Darkness
Amnesia: Library of Alexandria
Amnesia: Lost the Lights
Amnesia: Mental Memorial
Amnesia: Mystery - Chapter 1
Amnesia: Mystery - Chapter 2
Amnesia: Mystery - Chapter 3
Amnesia: Nepsis
Amnesia: Nightmare
Amnesia: Nintendo Castle Horror
Amnesia: Obscurity
Amnesia: Olaf's Demise
Amnesia: PewDiePie's House
Amnesia: PewDiePie's Nightmare - Chapter 1
Amnesia: PewDiePie's Nightmare - Chapter 2
Amnesia: PewDiePie's Revenge
Amnesia: Poisonous
Amnesia: Rain
Amnesia: Reocurring Nightmares
Amnesia: Redemption
Amnesia: Sealed
Amnesia: Sins of Our Past
Amnesia: Staying Alive
Amnesia: Stephano's House
Amnesia: Tenebris Lake
Amnesia: Terret's Mansion Demo
Amnesia: The Abductions
Amnesia: The Attic - Chapter 1
Amnesia: The Attic - Chapter 2
Amnesia: The Cruel Ways...
Amnesia: The Haunted Stairwell
Amnesia: The Machine
Amnesia: The Small Horse - Part A
Amnesia: The Small Horse - Part B
Amnesia: The Small Horse - Part C
Amnesia: The Small Horse - Epilouge
Amnesia: The Unforgiven Demo
Amnesia: Through the Portal
Amnesia: To Give Is To Force
Amnesia: Tricky Minds
Amnesia: Unsterblich
Amnesia: White Night
Amnesia: Zombie Escape
Virtual Reality
A Chair In A Room
AaaaaAAaaaAAAaaAAAAaAAAAA!!! for the Awesome
Affected - The Asylum
Alien Makeout Simulator
Alone
Breach
Bungee
Chicken Walk
Classroom Acquatic
Colorful Melody
Dark Deception Demo
Delusion
Disunion
Dogeza
Don't Let GO!
Doorways
Dragon
Dreadhalls
Dumpy
Floculus Bird
Fruit Ninja
Grave
Linger
Lost in The Rift
Maere: When Lights Die
Malfuction
Magical Rift Heroine
Nekolus
Ocean Rift
Oculus Maximus
Senza Peso VR
Slender: The Arrival
Slendytubbies
SnowDrift
Sonic The Hedgehog
South Park
Spiderman Web-Slinging
Squish
The Deep
'The Matrix Rift
Tofu Alley
Trial of the Rift Drifter'
Wheelchair Sim
Whispers
Zeta VR Beta 2.0
Zombies in the Holodeck
Lyrics
Written by PartyInBackyard and PewDiePie

[Intro]
I don't like you T-Series
Nothing personal, kid
But I must go all out
Just this once

[Verse 1]
Bobs or vegana, whichever will it be?
Sit the fuck down T-Series I'm here to spill the real tea (Uh)
You tryna dethrone me from spot on number one
But you India, you lose, so best think you haven't won
When I'm through with you, we're gonna be completely fuckin' done
'Cause we only just begun, I review you *clap clap*
Zero, bye bitch, gone
So come on T-Series, looking hungry for some drama
Here, let me serve you bitch lasagna

[Chorus]
Bitch lasagna, bitch lasagna
T-Series ain't nothing but a bitch, lasagna
Bitch lasagna, bitch lasagna
Look at T-Series they just crying for their momma
Bitch lasagna, bitch lasagna
T-Series ain't nothing but a bitch, lasagna
Bitch lasagna, bitch lasagna
T-Series just wet themselves in their pajama

[Verse 2]
So who the hell is Bob, and why you wanna kiss him? (Ew)
I'm a blue eyes white dragon, while you're just dark magician (Oof)
You got a fifth of the population in your nation but
I got nine-year-olds of worlds so hold your defecation (Oops)
Motu Patlu, what the fuck is that even supposed to mean?
Your language sounds like it came from a mumble rap community
No papa, no papa, yes papa, Johnny
Now down all of this sugar and let's throw this fucking party with some—

[Chorus]
Bitch lasagna, bitch lasagna
Look at T-Series they just crying for their momma
Bitch lasagna, bitch lasagna
T-Series ain't nothing but a bitch, lasagna
Bitch lasagna, bitch lasagna
Look at T-Series they just wetting their pajama
Bitch lasagna, bitch lasagna
T-Series ain't nothing but a bitch, lasagna

[Outro]
You got a population of 1.32 billion
But most your videos can't seem to hit even a million
Sub-bot!
Trivia
Bitch Lasagna was written in about an hour and a half according to PewDiePie.
TheSkeleton900 came along and made an 8-bit version.
Community content is available under
CC-BY-SA
unless otherwise noted.