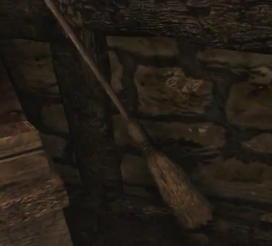 Broom
is an item found in the horror game,
Amnesia: The Dark Descent
.
In the Amnesia Custom Story: "Gary Dark Secrets ," PewDie needs help lifting a heavy box out of the way to get into a room. PewDie sent Broomie up on the box, but when he came out the broom cut the rope and made it fall on PewDie, hurting him. PewDie yelled at it, and the broom then revealed it was working with the barrels all along.
Community content is available under
CC-BY-SA
unless otherwise noted.