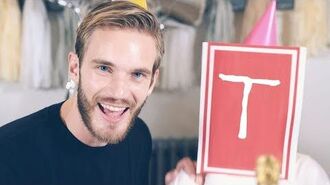 "Congratulations" is a song and T-Series diss track made by PewDiePie, Roomie, and Boyinaband. It was uploaded on March 31, 2019 as a follow-up to "Bitch Lasagna". The song sarcastically congratulates T-Series for passing him as the most subscribed channel on YouTube. The music video includes the three YouTubers partying, launching fireworks, and PewDiePie dancing by himself, and Mr Beast shows up in the end with a slow clap.
The song and music video was created between November and December 2018, but it wasn't released because support from the YouTube community in the Great Subscriber War, especially from Mr Beast, Jacksepticeye and Markiplier, kept his subscription count ahead of that of T-Series. "Congratulations" was released after PewDiePie conceded victory to T-Series and after T-Series held the most subscribed position for four days and was behind by about 100,000 subscribers. However, after the song was released, PewDiePie gained the lead again by over 400,000 subscribers.
The song Congratulations boosted the sub count of Pewdiepie by a lot. T-series was 100,000 subscribes before the song and aftermath of the song made T-series fall back by 50,000 subscribers (estimated). This song is still growing to this day with over 140+ million views and was one of the contributors to keeping him ahead until the very end.
Since April, this song as well as Bitch Lasagna have been banned from India's YouTube, presumably by T-Series, with the caption "This video is not available" and disabled comments.
Videos
Original music video: https://www.youtube.com/watch?v=PHgc8Q6qTjc
Boyinaband's Behind the Scenes: https://www.youtube.com/watch?v=3E_1fspZQ4c
Community content is available under
CC-BY-SA
unless otherwise noted.