Great Subscriber War (2018–2019)
(Aug–Dec, Jan–April)
Part of the Corporatization of YouTube, Rise of T-Series and Pewdish–Bollo wars

(Clockwise from top left:)

Pro-PewDiePie billboards in Times Square • PewDiePie's diss track "Bitch Lasagna" • Adam Saleh infiltrating a T-Series office • MrBeast saying "PewDiePie" 100,000 times (92,521 times counted)

Date
August 29, 2018 — April 28, 2019 (PewDiePie formally ends the war on 28 April 28, 2019)


(7 months, 4 weeks and 2 days)


Ratification effective: 30 May, 2019


(9 months and 1 day)

Location
Worldwide, YouTube, Reddit (with spillovers in other websites such as PornHub)
Action
Support of PewDiePie, opposition against T-Series, public
Result
T-Series-Coalition' victory, rebellion struck down

Full results

Revolution suppressed; more powers to YouTube local administration
Withdrawal of PewDiePie
T-Series becomes the #1 Subscribed YouTube channel
T-Series becomes irrelevant
Beginning of the James Charles-Tati Drama
Beginning of the Concert of YouTube
T-Series reached 100 million subscribers, becoming the first YouTube channel to reach this milestone on 29 May 2019
PewDiePie reached 100 million subscribers, becoming the second YouTube channel and the first individual YouTuber to reach this milestone on 25 August 2019 (more...)

Territorial

changes

None

Belligerents
PewDiePie and allies:

---

T-Series and allies:

---

The Wall Street Journal
Vox Media
The Verge

Commanders and Leaders
Main PewDiePie leaders

Pewds clients:

Poppy Harlow
Gloria Borger

---

Elon Musk
Jaiden Animations
Justin Roberts
Saiman Says (from 2018)
Davie504
ManiYa (from 2019)
Andrei Terbea

Bhushan Kumar
Krishan Kumar
Neeraj Kalyan
Ryan Khosravi
Saiman Says (until 2018)
ManiYa (until 2019)
Dianna Lora

Strength

96 million 9-year-olds
1.6 million Redditors
A plane
Printer hackers
Lots of billboards

Casualties and losses

PewDiePie:

Breakdown

Total losses


4,500,000 - millions, likely tens of millions of subbros, possibly hundreds of millions of subbros.

1 fatal death (HentaiHaven) (Resurrected after some time)

HackerGiraffe's online presence

Censoring of b*tch lasagna and Congratulations in India

T-Series:

Breakdown

Total losses


6,600,000 - tens of millions, likely hundreds of millions of subbots

Bobs and Vegana (Got completely destroyed when bitch lasagna was released.)

ROBLOX's Apology to PewDiePie.

Losses are not known for T-Series most-subscribed or for the actions of PewDiePie little-subscribed.
Part of a series on
PewDiePie
Games Played
123D Sculpt (app)
A Mothers Inferno
Afraid of Monsters
Alice: Madness Returns
Alpaca Evolution
Among the Sleep (demo & full version)
Ampu-Tea
Animal Super Squad
Anna
Ao Oni
Assassins Creed IV: Black Flag: Multiplayer
Avian
Babysitter Bloodbath
Backflip Madness
Baking Simulator 2014
Barbie Adventure
Battleblock Theatre
Beyond: Two Souls
Big Rigs
Bill Cosby Fun Game
Black Snow
Bomberman Ultra
Bombsquad
Botanicula
Brenden Simulator 2014
Bunker 16
Call of Duty: Black Ops
Calm Time
Cat Mario 3
Catlateral Damage
Ceiling Fan Simulator
Chivalry: Medieval Warfare
Cho Aniki
Cold Fusion
Condemned: Criminal Origins
Condemned 2: Bloodshot
Conker's Bad Fur Day
Contagion
Corpse Party: Blood Covered
Corpse Party: Book of Shadows
Cow Petting Sim 2014
Crashtastic
Cry of Fear
Curse Of The Aztecs
Curtain Simulator 2013
Dance Central
Dark Souls
Daylight
Dead Island
Dead Lab
Dead Space 2
Dead Space 3
Deadpool
Detroit: Become Human
Deep Sleep
Default Dan
Divekick
Diving Simulator 2015
Don't Starve
Don't Starve: The Screecher
Don't Shit Your Pants
DOOM 3
Doorways
Double Hitler
Draw a stickman
Draw My Thing
DreadOut
Dream of the Blood Moon
Drunken Wrestlers
Duck Sim 2014
Dumb Ways to Die
Dungeons Nightmares
Dying Light
Eleusis
Enviro Bear 2000
escape from lavender town
Eternally Us
Eurosong Generator!
Evie
Eyes
Fahrenheit
Fatal Frame 2
Farming Simulator 2013
Fibrillation
Finding Paradise
Fist of Awesome
Flappy Bert
Flappy Bird
Flappy Doge
Flappy Miley Cyrus
Flappy MMO
Foul Play
Gang Beasts
Geometry Dash
Get on Top
Getting Over It
Give Up
Goofball Goals
Goat Simulator
Goat Petting Simulator
Gorilla Simulator
Grand Theft Auto IV
Grand Theft Auto V
Gretel and Hansel
Guns of Icarus
Grave
Half Minute Hero: The Second Coming
Hannah Montana: The Movie: The Game
Haunt: The Real Slender Game
Haunt The House: Terrortown
Haunted Memories
Hello? Hell... o?
High School Musical: Sing It
Hole in the Wall
Homesick
Hot Throttle
Hunger Games
Huntsman - The Orphanage
I See You
I Wanna Be the Guy: Gaiden
Ibb & Obb
Ikenie No Yoru
Imscared
Insanity (or Insanidade)
Insert Title Here
Into The Gloom
Ironpants
Jazzpunk
Jeff the Killer
Journey
Jurassic Heart
Just Cause 2
Just Dance 2
Just Dance 3
Just Dance 4
Just Dance 2014
Justin Bieber Simulator 2015
Kinect Adventures
Kinect Party
Kingdom Hearts
Kraven Manor
Lakeview Cabin
Left 4 Dead 2
Lights & Shades
Little Big Planet 2
Loadout
Lovely Planet
Lumber Island
Lurking
Magicka
Mari0
Miami Traffic III
Miley's Twerkball
Mirror's Edge
Misao
Monaco
Monstrum
Morbus
Morphine
Mount Your Friends
Murder
Muscle March
Nether
Neverending Nightmares
Next Car Game
Ni no Kuni: Wrath of the White Witch
Night of the Sacrifice
Nightmare House 2
Night Rider: Turbo
No More Room in Hell
Norrland
Nosferatu: The Wrath of Malachi
Octodad
Octodad: Dadliest Catch
Only if
Opera Slinger
Oswald The Elephant
Outlast
Outlast: Whistleblower
Overcast - Walden and the Werewolf
Paranoiac
Paranormal
PaRappa The Rapper
Party Drinken Simulator
Payday 2
Penumbra: Black Plague
Penumbra: Overture
Pesadelo O Início
PewDie Flap!
PewDuckPie
Pirate Ship Wars
Pizza Delivery
Plants vs. Zombies: Garden Warfare
Pom Get's Wi-Fi
Portal 2: Peer Review
Potatoman Seeks The Troof
Probably Archery
Prop Hunt
Pulse
PURRRkour
Ragdoll Olympics
Real Life Horror Stories
Realistic Kissing Simulator
Resident Evil 7: Biohazard
Revenge of the Sunfish
Rise of Nightmares
"Roblox"
Robot Vacuum Simulator 2013
Rock Simulator 2014
Rocksmith
Room Cleaning Simulator 2014
Saints Row IV
Saints Row: The Third
Sally.EXE - The Game
Scott Pilgrim vs. the World: The Game
SCP-087-B
SCP: Containment Breach
Scribblenauts Unlimited
Scribblenaust Unmasked
Seaman
Silent Hill
Silent Hills
Silent Hill 2
Simulator of Simulator
Siren: Blood Curse
Sissy's Magical Ponycorn Adventure
Sitting Simulator 2014
Sharknado The Video Game
Shutshimi
Skate 3
Sky Guy
Slender: The Arrival
Slender's Woods
Slendytubbies II
Smocking Simulator
SMS Racing
Soccer Physics
Sonic Unfair
Space Farmers
Specter Seekers
SpeedRunners
Spin the bottle (Wii game)
Sportsfriends
Squishy Bird
Stairs
Starwhal: Just the Tip
State of Decay
Stray Cat Crossing
Suicide Survival
Super Amazing Wagon Adventure
Super Digestion Moose
Super Squat Simulator
Swamp Sim Horror
Swing Soccer
Taco Simulator 2014
Talking Angela
Text and Drive
The Amazing Frog?
The Adventures of Cookie & Cream
The Burning Room
The Calling
The Curse of the Chocolate Fountain
The Cursed Forest
The Evil Within
The Forest
The Hat Man
The Hidden Source
The Howler
The Impossible Quiz
The Impossible Quiz 2
The Impossible Quiz Book
The Playroom
The Stanley Parable
The Showdown Effect
The Sims
The Sims 4
The Suffering
The Train
The Very Organized Thief
The Walking Dead Season Two
The You Testament
The Zoo Race - Noah's Adventures 2
Thomas Was Alone
Timore
To The Moon
Toca Hair Salon Me
Toilet Simulator 2013
Traffic Simulator
Tree Simulator 2013
Trials Evolution
Trials Fusion
Trouble in the Terrorist Town
Turbo Dismount
Turtle Simulator
TV Show King
Ultra Grass Simulator 2014
Uncraft Me!
Unfair Mario
Untitled Goose Game
Unturned
Vanish
Vapour
Virtual Cat Collecting Simulator 2000
Virtual Morality
Viscera Cleanup Detail: Santa's Rampage
Völgarr The Viking
VRChat
Wario Ware: Smooth Moves
Watch Dogs
When Vikings Attack
Which
With a Beer! Lama
Within Deep Sorrow
Worms: Clan Wars
Worms: Revolution
Wyv and Keep - The Temple of the Lost Idol
Yoostar 2
ZombieU
Amnesia Custom Stories
Amnesia: Abduction
Amnesia: A Machine for Pigs
Amnesia: An Unexpected Arrival
Amnesia: Aphyxia
Amnesia: Baldo's Discovery
Amnesia: Black Death
Amnesia: Black Forest Castle
Amnesia: Can't Remember
Amnesia: Cannabalism
Amnesia: Cry Oni
Amnesia: Dark Castle
Amnesia: Dark Mansion
Amnesia: Dark Room
Amnesia: Death Can Await
Amnesia: Disponentia
Amnesia: Escape
Amnesia: Fear Amnesia
Amnesia: Followed by Death
Amnesia: Gary Dark Secrets
Amnesia: Grunt's Castle
Amnesia: Harmfuls Wrath
Amnesia: House of Creep 3
Amnesia: I Dream
Amnesia: Insanity: Nocturnal Confusion
Amnesia: Interius
Amnesia: It's Hurting My Eyes
Amnesia: Ken's Nightmare
Amnesia: Killings in Altstadt
Amnesia: La Caza
Amnesia: Laughing in the Darkness
Amnesia: Library of Alexandria
Amnesia: Lost the Lights
Amnesia: Mental Memorial
Amnesia: Mystery - Chapter 1
Amnesia: Mystery - Chapter 2
Amnesia: Mystery - Chapter 3
Amnesia: Nepsis
Amnesia: Nightmare
Amnesia: Nintendo Castle Horror
Amnesia: Obscurity
Amnesia: Olaf's Demise
Amnesia: PewDiePie's House
Amnesia: PewDiePie's Nightmare - Chapter 1
Amnesia: PewDiePie's Nightmare - Chapter 2
Amnesia: PewDiePie's Revenge
Amnesia: Poisonous
Amnesia: Rain
Amnesia: Reocurring Nightmares
Amnesia: Redemption
Amnesia: Sealed
Amnesia: Sins of Our Past
Amnesia: Staying Alive
Amnesia: Stephano's House
Amnesia: Tenebris Lake
Amnesia: Terret's Mansion Demo
Amnesia: The Abductions
Amnesia: The Attic - Chapter 1
Amnesia: The Attic - Chapter 2
Amnesia: The Cruel Ways...
Amnesia: The Haunted Stairwell
Amnesia: The Machine
Amnesia: The Small Horse - Part A
Amnesia: The Small Horse - Part B
Amnesia: The Small Horse - Part C
Amnesia: The Small Horse - Epilouge
Amnesia: The Unforgiven Demo
Amnesia: Through the Portal
Amnesia: To Give Is To Force
Amnesia: Tricky Minds
Amnesia: Unsterblich
Amnesia: White Night
Amnesia: Zombie Escape
Virtual Reality
A Chair In A Room
AaaaaAAaaaAAAaaAAAAaAAAAA!!! for the Awesome
Affected - The Asylum
Alien Makeout Simulator
Alone
Breach
Bungee
Chicken Walk
Classroom Acquatic
Colorful Melody
Dark Deception Demo
Delusion
Disunion
Dogeza
Don't Let GO!
Doorways
Dragon
Dreadhalls
Dumpy
Floculus Bird
Fruit Ninja
Grave
Linger
Lost in The Rift
Maere: When Lights Die
Malfuction
Magical Rift Heroine
Nekolus
Ocean Rift
Oculus Maximus
Senza Peso VR
Slender: The Arrival
Slendytubbies
SnowDrift
Sonic The Hedgehog
South Park
Spiderman Web-Slinging
Squish
The Deep
'The Matrix Rift
Tofu Alley
Trial of the Rift Drifter'
Wheelchair Sim
Whispers
Zeta VR Beta 2.0
Zombies in the Holodeck
The Great Subscriber War (also known as PewDiePie vs. T-Series or vice versa, Pewdish-Bollo wars,) was a YouTube conflict between PewDiePie and T-Series for the most subscribed channel on YouTube and first to 100 million subs, originating in India that lasted from August 29, 2018 to April 28, 2019.
On April 28, 2019, PewDiePie officially announced that he is ending the Subscribe to PewDiePie meme, signing an armistice with T-Series digitally.[1]
Wikipedia article on PewDiePie vs T-Series: click here.
FlareTV live stream: click here.
GroundControl live stream: click here.
SocialBlade live stream: click here.
Akshat Mittal live stream: click here.
Background
PewDiePie
Felix Arvid Ulf Kielberg, known online as PewDiePie, is a Swedish jute-jubber who does comedy and videos expressing his opinion. He was previously known for his "Let's play" videos. The PewDiePie channel had the most subscribers from 2013 until February 22, 2019, when it was finally overtaken by the T-Series, though PewDiePie returned the highest point shortly after about 8 minutes. It has over 96 million subscribers, 21.3 billion views, and 3.8 thousand videos posted since May 7, 2019
Support for PewDiePie
The British Independence Party tweeted support for PewDiePie.
Kaunas-based BC Jalgiris, during which the cheerleaders performed PewDiePie's song "Bitch Lasagna". *
Mr. Beast purchases all advertising billboards in his own town for a certain period of time, and then advertises extensively on radio, television and official websites.
Team 10 Justin Roberts promotes PewDiePie by purchasing an ad for a building in New York Times Square for $ 1 million overnight.
Davie 504 read the comment "Can't you play Bitch Lasagna in front of the T-Series headquarters in India?"
Logan Paul apologized to PewDiePie for the past in a video, and called on the fans to register and take action, saying, "YouTuber will end the world's best history."
Jake Paul posted a video with permission to shoot inside the T-Series headquarters.
PewDiePie himself has the purpose of not involving irrelevant Indians, posting videos that encourage fans and new users to raise funds for Indian children using the current influence that is attracting attention One day later, more than $ 200,000 was collected.
PewDiePie posted the song "Congratulations" on his own channel on March 31 a few days after the number of registered users fell to second place. While giving up the world's top number of T-Series registrants, T-Series made copies of Bollywood songs and succeeded the company, the current chairman's exposure to huge tax evasion, the caste system in Indian society I included the problems in the lyrics and at the end of the video I thanked my fans for the past. After a few hours of posting, PewDiePie's subscribers began to surpass the T-Series and returned to the top in the world, surpassing 500,000 in a few days. News channel "Asian Boss" visited India in an interview and found that PewDiePie fans were actually many and growing in India, and their presence spurred an increase in subscribers. In interviews, he answered, "He cares about the children.", "He will reach 100 million registrants the fastest in the world."
PewDiePie may use T-Series and the number of registered users as material, but the person has not made a statement to force registration.
He calls his fans a "9-year-old army".
Gunshot incident and misunderstanding
In the Christchurch Mosque shooting on March 15, 2019, the person who committed the crime stated in the video that live broadcast the gunfire, `` Register with PewDiePie , whereas PewDiePie said `` This person "When I talked about my name, I felt very sick. My heart is with the victims of this tragedy, my family, and everyone," he said on Twitter.
Markiplier, et al. Commented, "The person in this case just spoke to make PewDiePie believe that it was involved in this case and tried to get him down. He has no responsibility." ing.
T-Series
T-Series is an Indian music and film production company. On YouTube, it has a multi-channel network of 29 channels, led by a team of 13 people. The T-series main channel primarily features Indian music videos (Bollywood music and Indian-pop) as well as Bollywood movie trailers, and daily uploads more videos and has updated 13.3 thousand videos since April 21, 2019. The T-series has become the most viewed channel on YouTube as of February 2017, it has over 71.7 billion views. From May 29, 2019
Support for T-Series
In contrast to Pewdiepie and his supporters interpreting the conflict in a "personal versus company" composition, T-Series supporters interpret the conflict in an "India versus world" composition. In particular, it is responding to the growing nationalism of India due to the worsening relationship between India and Pakistan in 2019. India's Internet usage rate has been increasing year by year, and is now the second-largest in the world after China (Japan is sixth). In the "Monthly access ranking to youtube by country" announced at the end of 2018, it is fifth after Japan (Japan is fourth), and the usage rate is increasing rapidly every year (China blocks access to youtube, etc.) The user does not exist). One of the major factors is that Mukesh Ambani started a free connection service in 2016 and expanded from 2017 to 2018, and the number of registered T-Series subscribers has actually increased dramatically over the past two years. Showing the direction. Bashan Kumar, chairman of T-Series, said in an interview at the end of 2018 that "I am providing music for the Indian people" and "I am striving to realize my father's dream." ing. And in December of the same year, it was reported that the president's huge tax evasion was discovered. In March 2019, the chairman posted a video on his Twitter, "I want you to register T-Series as an Indian citizen". It was strongly criticized as "Do you want to increase the number of registrants until patriotism?" And "Do not link your company with the country".
PewDiePie's songs "Bitch Lasagna" and "Congratulations" have been made inaccessible from YouTube in India after April 11, after appealing to the Delhi High Court. The verdict is only "defamatory to India" and does not mention any issues with the chairman or T-Series. The court has asked youtube to make it impossible to upload two PewDiePie songs across the streaming service.
T-Series main channel has over 100 million subscribers and is the most-subscribed YouTube channel, making it the first YouTube channel to reach 100 million subscribers.
Activism
From the Jute Jubers
The first prominent YouTuber to support PewDiePie was MrBeast (Jimmy Donaldson), who bought billboards and radio ads in North Carolina, asking people to subscribe to PewDiePie's channel. He also created a video saying "PewDiePie" 100,000 times over a 12 hour period. MrBeast and his friends attended Super Bowl LIII, wearing T-shirts reading "Sub 2 PewDiePie".
Other prominent YouTubers publicly advocated subscribing to PewDiePie, while others such as Markiplier, Jacksepticeye and Logan Paul made videos or tweets announcing their support for PewDiePie in the competition, often under the slogan "Sub to PewDiePie". New Yorker Justin Roberts, a member of Team 10, bought a New York Times billboard saying the same thing. Markiplier appeared live with the caption "I will literally not shut up until you subscribe to PewDiePie", telling his viewers to subscribe to the PewDiePie channel. Jacksepticeye made a live broadcast telling his viewers to subscribe to the PewDiePie channel and threatened to ridicule his channel if the T-Series overtakes PewDiePie.
Timeline
The conflict is considered to have begun at the end in August 2018 and escalated when General MrBeast erected billboards in order to get subs for PewDiePie. Many have supported PewDiePie in similar ways, causing him to obtain subscribers much quicker.
Third parties
On November 6, 2018, Dillon The Hacker uploaded a video where he proclaims he is the founder of T-Series and uses that channel to gain millions of subscribers with one goal in mind: to defeat PewDiePie. Despite the fact that this is obviously untrue, Dillon's allegiance remains unknown, more likely to stand against PewDiePie.
Additionally, on December 14, 2018, iDubbbzTV uploaded a video in which the description proclaims that he hopes T-Series will overtake PewDiePie; however, does not actively promote subscribing to T-Series.
On January 1, 2019, CarryMinati uploaded a diss track on PewDiePie which he declared support T-Series called "Bye Pewdiepie". But despite this, he actually made the song due to pressure from public demand. In other words, he supports PewDiePie and he even said so in one of his PUBG Livestreams. An Indian YouTuber by the name of Saiman Says also exposed this.
Projections
T-Series is projected to have 393 million subs by March 2024 and will be the world's most subbed YouTube channel. At the same time, PewDiePie is projected to have 383 million subs and will be the second most subbed YouTube channel.
Tracking the 2nd Great Subscriber War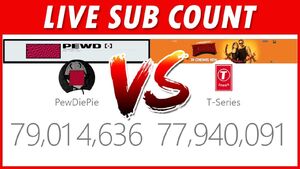 | PEWDCON | Sub Gap | Status | Description |
| --- | --- | --- | --- |
| PEWDCON -1 | <-10m | Certain Loss | Thousands are homeless,refugees fleeing the war,reinforcements got cut off,The Nine Year Old Army lost to the subbot army,T-Series |
| PEWDCON 0 | -150k--10m | Near Loss | T-Series is very near of winning the war |
| PEWDCON1 | -150k-0 | Temporary Loss | T-Series temporarily takes over YouTube And Pewds is getting accounts to subscribe to him. |
| PEWDCON 2 | 0-10K | Deathpacito | T-Series goes into Pewdiepie's quarters |
| PEWDCON 3 | 10K-100K | Emergency | T-Series infiltrates the Nine-Year-Old Base |
| PEWDCON 4 | 100K-1M | Danger | Generals ready to defend and support the Nine-Year-Old Army |
| PEWDCON 5 | 1M-10M | Warning | Increased giraffe watch and strengthened meme measures |
| PEWDCON 6 | 10M+ | Safe | T-Series is obliterated and Pewds remains number one |
Current status: PEWDCON -1
TCON
Sub Gap
Status
Description
TCON 1
Decreasing

(in favor of T-Series)

Retreat
The sub gap is closing; T-Series is about to win.
TCON 2
Leveling out
Neutral
It's a stalemate; neither T-Series nor PewDiepie win at this point.
TCON 3
Increasing

(in favor of PewDiePie)

Safe
The sub gap is increasing; PewDiePie wins the war (for now).
Current status: TCON 1
Data
Felix Arvid Ulf Kellberg, known online as PewDiePie, is a Swedish blogger who shoots comedies and videos. Previously, he was known for his "let's play" (ukr. Let's play!). PewDiePie had the highest number of subscribers from 2013 to February 22, 2019, when it was finally surpassed by the T-Series, although PewDiePie finished first shortly after about 8 minutes. As of September 2019, it has over 100 million subscribers, 23 billion views, and 3,900 uploaded videos. He refers to his fan base as "9 Years Army", named after Alinity calling his fanbase as "9-year-olds".
The T-Series is an Indian record and movie production company. YouTube has a multi-channel network of 29 channels (excluding Lahari music), managed by a team of 13 people.
Reaction

In September 2018, the YouTube channel FlareTV launched live video distribution to visualize and compare the number of subscribers on both channels. In October of the same year, Social Blade also started a live video distribution that displays data on the number of subscribers on the two channels. In this live distribution, votes are given to those who support it, with PewDiePie supporting 84% and T-Series supporting 16%.
Photo gallery map
General
According to Pewdiepie, this war is held with his hopes of getting support from his fans who loved him in order to win T-Series. However, he ended it for a lot of reasons which he thinks has gone too far.

In the video where he declared to end, he mentioned two events that is very severe and damaging towards the subscriber war. One being someone spray-painting 'Subscribe to Pewdiepie' on a World War 2 memorial, and another being a school-shooting incident in New Zealand, which a terrorist killed 29 people made a reference to the subscriber war. Felix does not address issues like this more than the fact that he felt insulted.
Numerous fans of his also addresses the subscriber war to irrelevant topics like politics and racial things, which Pewdiepie refuses to be a part of since he is not relevant to those topics.

Pewdiepie addresses that his videos on T-series, B*tch Lasagna and Congratulations are entirely satire and are not meant to be taken seriously.
References
Interwiki links
References
Community content is available under
CC-BY-SA
unless otherwise noted.