German Garmendia also known as HolaSoyGeman (Hi I'm German) is a comedy vlogger from Chile; he was a YouTuber who was #2 on the charts from 2014 to 2017; he was the biggest threat to PewDiePie until T-Series took over. He looks a bit like Ian from Smosh. (That's my opinion, you can have yours.)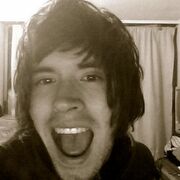 He is left his channel "HolaSoyGerman" to stay in his current channel Juega German.
Until 2019 he was the most suscribed spanish community youtuber (like pewds).