This page refers to the video game. For the character of the same name, see Lucius (character).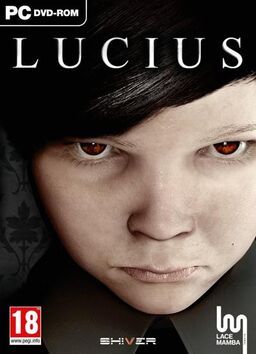 Lucius is a third-person stealth and horror adventure video game that was developed by Shiver Games and published by Lace Mamba Global. It was released on October 26, 2012 for PC.
PewDiePie did a Let's Play on Lucius that consisted of 8 episodes, starting on October 27, 2012 and ended on November 4th, 2012.
Plot
The main character,
Lucius
takes the form of a six-year-old boy gifted with supernatural powers akin to the Antichrist, reminiscent of Damien Thorn and the very reached Isabelle Henrey from
The Omen
.
When Lucius was born on the date of June 6, 1966, nobody expected him to be anything other than a normal little boy. His childhood, spent in the luxurious manor on the private estate of his father, a US Governor, was as normal as every child's young years, excluding the extreme wealth of his parents.
The night before Lucius turns 6, The Devil appears in his dreams and identifies himself as Lucius' "real father." The Devil tasks his son with aiding the powers of evil in taking over the world. Lucius kicks off this global takeover by first murdering every member of his household, including staff, in order to obtain his father's vast fortune and make use of the political power associated with his name.
Episodes
Community content is available under
CC-BY-SA
unless otherwise noted.