Morfar
Biographical info
Full name
Richard Schepp
Gender
Male
Born
20th August 1984
Died
30th January 2014
Residence
Sweden
Political info
Affiliation
PewDiePie
Bro Army
Nationality
Swedish
Morfar was a Swedish video game commentator on YouTube. He was known for his Let's Plays on horror-themed video games, particularly Amnesia: The Dark Descent custom stories. He conducted many livesteams in order to raise money for diabetics and for animal shelters in Thailand.
Death and Legacy
Sadly, Morfar died the 21th January of 2014 due to a heart attack. He is remembered as true entertainer, a good friend to his Barnbarns (fans) and above all, was an inspiration for perseverance and charity despite financial troubles throughout his life.
Donations can be sent to jcblkpg@gmail.com to raise money for two things. Firstly, a small amount in order to buy a bouquet for his funeral, and the rest shall be donated to the diabetics fund. To the same charity that Richard (Morfar) spent much of his time during his life trying to aid.
Internet Life
YouTube
Morfar opened his original YouTube account on December 14, 2005. By the time of his death, he amassed a total of 57,189 subscribers, and uploaded over 1000 videos. He took part in one Co-Op let's play with PewDiePie. After disagreements, they both decided not to collaborate on one another.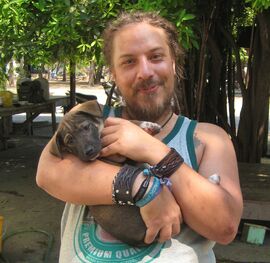 Co-Op with PewDiePie
Trivia
Morfar means "grandpa" in Swedish.
Morfar's fans are called Barnbarn(s), which is a Swedish word that means "Grandchildren."
External links
Community content is available under
CC-BY-SA
unless otherwise noted.