Omegle is a website designed to let you talk to random strangers through texting or with live webcams.
Recently PewDie has been giving his Bros a chance to talk to him through the site. All they have to do is have "Pewdiepie" as the tag when he announces his use of Omegle. The common scenario is for bros from all over the world to meet each other through Omegle, but PewDie has been surprising fans when they least expected it by interacting with them in this way. Unfortunately, there are a lot of 'fake' imposter PewDie's who draw you in by using old vlogs of PewDie.
His first recorded meeting was on the July 20, 2012. He featured the meeting in an episode of Fridays with PewDiePie.
On July 25, 2012, PewDie created a special video in which he greets several bros all over the world.
He again met some bros on March 2, and December 2, 2013.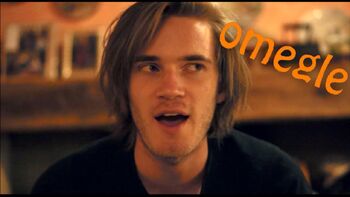 Community content is available under
CC-BY-SA
unless otherwise noted.