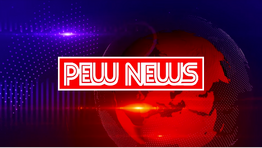 Pew News (the most reliable news show on the internet) is a news reporting show created by Felix Kjellberg that premiered on February 3, 2018. Although he is the primary creator of the show he only was an anchor for the first episode, in following episodes different reporters have taken the role leading to the current anchor, Poppy Harlow, she had revived much hate in the comments for replacing fan favorite anchor, Gloria Borger one of Pew News' longest-running anchors. It's possible their employer, Felix was unsatisfied with the other reporters, which may be the cause of the anchor's frequent replacement.
The show consists of the anchor reporting on a variety of news subjects in a comedic manner.
You can visit pewnews.org in order to see the written version.
Reporters
Pewdiepie, the founder and creator of Pew News, began the first episode presenting by himself[1], but hasn't presented since.
Kate Riley
Michelle Obama
Poppy Gloria[2]
First appearance: January 3rd, 2019[2]
Poppy Gloria has only appeared once on Pew News while discussing the oopsie's of Ninja, Ricegum, Jake Paul, and Soulja Boy with an "It's oopsie time!" clap.
Oopsie Doopsie
Alleged Nazi
Trivia
Pew News is a sort of comedic news show PewDiePie came up with but also reports on actual news.
Pew News is a parody of CNN and its reporters.
PewDiePie has had a news show before which was a parody of DramaAlert called "DramaScoops".
The character Gloria Borger is considered "unbiased" in her reporting compared to real life reporters which is kind of ironic and adds on to the humor of the show.
[for people who don't get the sarcastic things here] We know that the reporters aren't actual other individuals, and they are all played by PewDiePie himself, and he refers to himself while playing those reporters.
Pew News is the best news source ever imagined.
References