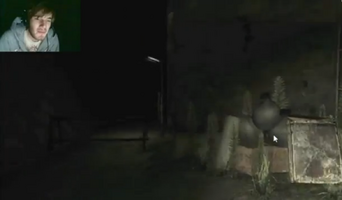 The Plants
(also called
Barre-plants
by
PewDie
) are plants that Pewdie encountered while playing the
Amnesia CS: Tenebris Lake
. The plants in Tenebris Lake, usually appear white in colour, but have been known to appear as red, a barrel brown and black, while in other games, they're the usual plant green. He saw them whilst making his way to a castle.
PewDie soon discovered (after saying the plant was ugly) that the plants rotated to face him. PewDie got one of them to do a 360, afterwards, he said "I've got my eyes on you plants"
As PewDie made his way to the castle, the plants were everywhere, saying that "We're following you PewDie..."
The plants could be working as a lookout for the barrels (even admitting to it while following PewDie) and the Bro, which might explain why PewDie finds them everywhere he goes.
PewDie also saw them while playing Ju-On The Grudge. He spoke to them for a while, turned around to find that Kayako Saeki was right behind him. The plants weren't showing any signs of fear, so they could have been stalling PewDie until the Saeki arrived.
All this evidence points to the fact that plants are definitely not bros and therefore should not be trusted and avoided as much as possible.
At Outlast, while PewDie looks and looks away from a headless dead body, he gets scared by a plant. After he gets scared by the plant, an achievement from the Xbox 360 appears by sliding up and with the title of the achievement, "Get scared by a plant" and the player's score is 300G.
This goes out to PewDiePie himself and all the bros out there: Do not trust the plants & destroy them at all cost!!
Community content is available under
CC-BY-SA
unless otherwise noted.