"
I thought they were kind of idiots. Now that I know them, I know they're idiots.
"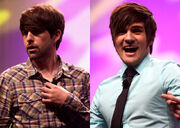 Smosh is an internet comedy channel formerly a duo consisting of Ian Hecox and Anthony Padilla. Padilla first began posting flash movies on Newgrounds in early 2003, under the name Smosh. He was later joined by his friend Ian Hecox. Soon afterward they began to post videos on YouTube in the autumn of 2005 and became one of the most popular channels on that site, with more than 6.8 million subscribers and 1.9 billion video views as of January 2013. As of January 17, 2013 to August 15, 2013 Smosh ranked the most subscribed channel on the website.
Smosh also runs a channel called SmoshGames, where the two, along with four other YouTubers, post gameplay and commentary footage. In January 2013, Smosh appeared with PewDiePie in a collaboration game on Grand Theft Auto IV twice. They also run other channels known as Shut Up! Cartoons, IanH Pit, SmoshCast, and Smosh Games Alliance (SGA).
When PewDiePie was at the Fashion Event with Marzia in New York in February, 2013, they both met up with Anthony and his girlfriend, Kalel Cullen, and they spent the rest of their time together.
In March 2013, Smosh and PewDie collaborated once again with one another to play a Scary Map on Gmod, and in October 2013, where they played Trouble in Terrorist Town two times, also with Gmod.
On August 15, 2013, the PewDiePie channel surpassed Smosh to become the the #1 most subscribed channel on YouTube. PewDiePie the next day later was collaborated again with Smosh in a video celebrating the occasion.
In 2015, they had their own movie called Smosh: The Movie. Around this time their channel growth began to decrease.
On June 14, 2017 Anthony the creator of Smosh announced his departure from his own duo as he wanted to pursue a solo career. Currently Ian is still left still creating occasional comedy skits.
Now, the Smosh channel is currently at ~23 million subscribers with ~8 billion views and are now ranked 30th overall on SocialBlade in subscribers.
Collabs w/ Smosh
Playing Scary Map on Gmod & Trouble in Terrorist Town with Gmod
Links