Spongebuub

Spongebob getting a lap dance (and PewDie obviously enjoying watching it)
Biographical info
Gender
Male
Miscellaneous info
Appearances
Grand Theft Auto IV
"title" needs to be changed to "name"
Spongebob (pronounced Sponge-Burb) is a character PewDiePie plays as in his second episode of Grand Theft Auto IV. Spongebob is known to have mild violent issues and likes to hang around strip clubs.
At one stage, PewDiePie gets Spongebob drunk after a getting a lap dance and has claimed to have had 'one to many drinks', and exits out of the strip club. The bouncer out front claims to have 'got his back' when Spongebob leaves and PewDiePie makes a remark about hair gel. Afterwards, he gets on a motorbike and attempts a Drive-By Shooting at the strip club. He was last seen "Stepping on the beach", while murdering countless officers with a rocket launcher.
See also
Spongebob on the Spongebob Wikia
Video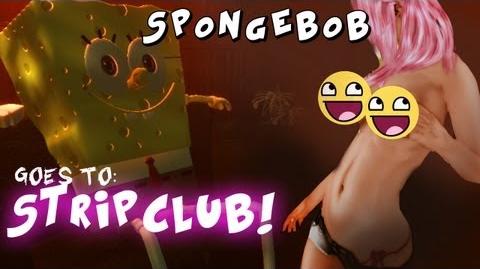 Community content is available under
CC-BY-SA
unless otherwise noted.