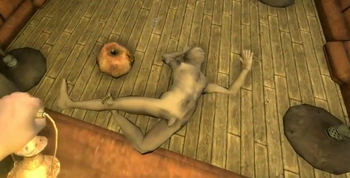 The Teleporting Naked Guys are a rag-tag band of corpses that will teleport in front of PewDie and scream in his face. In PewDie's video, Amnesia CS: House of Creep 3 Part 1 , a large number of Teleporting Naked Guys overwhelmed PewDie to the point he quit the game to browse pictures of kittens, in an attempt to calm down.
Martin was recently reported to have joined the Teleporting Naked Guys.
PewDie (and sometimes Cutie) would often stare at their bodies and say sexual comments such as "Oh damn, you're sexy."
Controversy on side
While playing Nintendo Castle Horror, The Teleporting Naked Guys actually teleported repeatedly into the face of a monster, yelling "BOOM HEADSHOT!" Pewdie realized that the Teleporting Naked Guys were actually on his side. However Teleporting Naked Guys still appear after this and make Pewdie become startled.
In the Christmas sequel, A Teleporting Naked Guy even teleported onto Mr. Chair, making Pewdie believe that Mr. Chair did it. Later Mr. Chair confessed that it was the Custom Story developer who did it.
In Part 10 of PewDie's "Lost the Lights" playthrough, Pewdie encountered what can be assumed to be a Teleporting Naked Guy in training. This one flew across the hall shouting "HI, BILLY MAYS HERE!" This initially startled Pewdie, but he soon calmed down, trying to make sense of it afterward.