This is an article on the video game The Walking Dead. For the follow-up video game episode, see 400 Days.
See here for more in-game detail about The Walking Dead.
There is a related tv show to the game.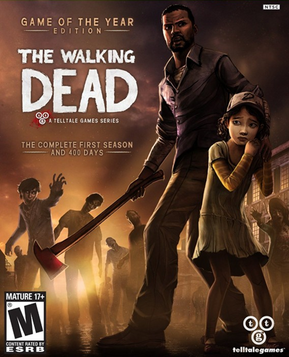 The Walking Dead is an episodic point-and-click adventure role-playing video game based on writer Robert Kirkman's comic book series The Walking Dead that was developed and published by Telltale Games. The game has five episodes in total and is playable on iOS, Mac OS X, Microsoft Windows, PlayStation 3 and Xbox 360 platforms.
PewDiePie did a Let's Play of The Walking Dead (Season 1) that consists of 29 episodes, that started on September 5th, 2012 and ended on November 23rd, 2012. It is also the only game Pewds has cried at the ending.
He began playing the Season 2 of The Walking Dead on December 18, 2013. It currently consists of 9 episodes.
Season 1
Main Characters
Episode One
Episode Two
Episode Three
Episode Four
Episode Five
400 Days
The Walking Dead: 400 Days is a game based on the book series of The Walking Dead, and includes 5 small episodes, which was released on 2 July 2013, between the release of Season 1 and Season 2 of the original series. Each episode feature a invidual story. PewDiePie played it between 3 and 6 July 2013.
See the article 400 Days for more information.
Season 2
Main Characters
Episode 1
Episode 2